Posted by AxiaFunder Team on 04/24/2020
Last updated on 29 July 2021.

To date, 13 litigation cases* have been fully funded via our platform, of which five** have been successfully resolved, generating a 40-94% return*** to investors each over a period of 2-15 months. Meanwhile, the other 8 cases remain ongoing. Total amount of capital raised to date is £1,872,716**** with an average IRR***** on the resolved cases equivalent to 55%. There are no losses to date.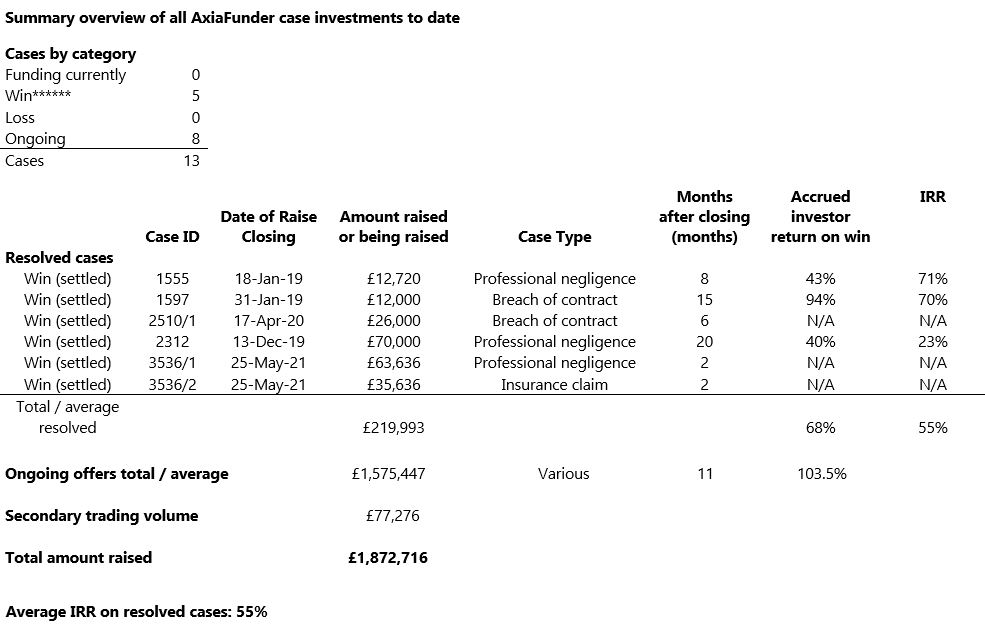 Disclaimer:
Past performance is not a guarantee of future results and projected returns are not guaranteed to be realised. Investing puts your capital at risk and there is a significant risk of losing your entire investment if the case fails. 

*3 cases were funded with one SPV via Offer ID 2510 of which one case has been resolved (this case is denoted by 2510/1 for simplicity); 3 cases were funded with one SPV via Offer ID 3536 of which two have been resolved (these cases are denoted by 3536/1 and 3536/2 for simplicity); 3 cases were funded in stages using separate SPVs
** A realised return calculation is not provided for the Case ID 2510 and Case ID 3536 because these offers contain cases that remain ongoing
*** Net investor return accrued to date. For resolved cases this is the actual net gain after fees received by investors. For ongoing cases, this is the net return investors would get after all fees if there was an immediate case win
**** Total volume includes secondary trading volume of £77,276
***** Internal Rate of Return (IRR); Average refers to the arithmetic mean
****** 'Win' means case resolved with a positive financial return for investors. 'Lose' means case resolved with a negative financial return for investors