Posted by By Rabin Tambyraja, Professional Investor and AxiaFunder Shareholder on 05/21/2018
The best kept secret in investing?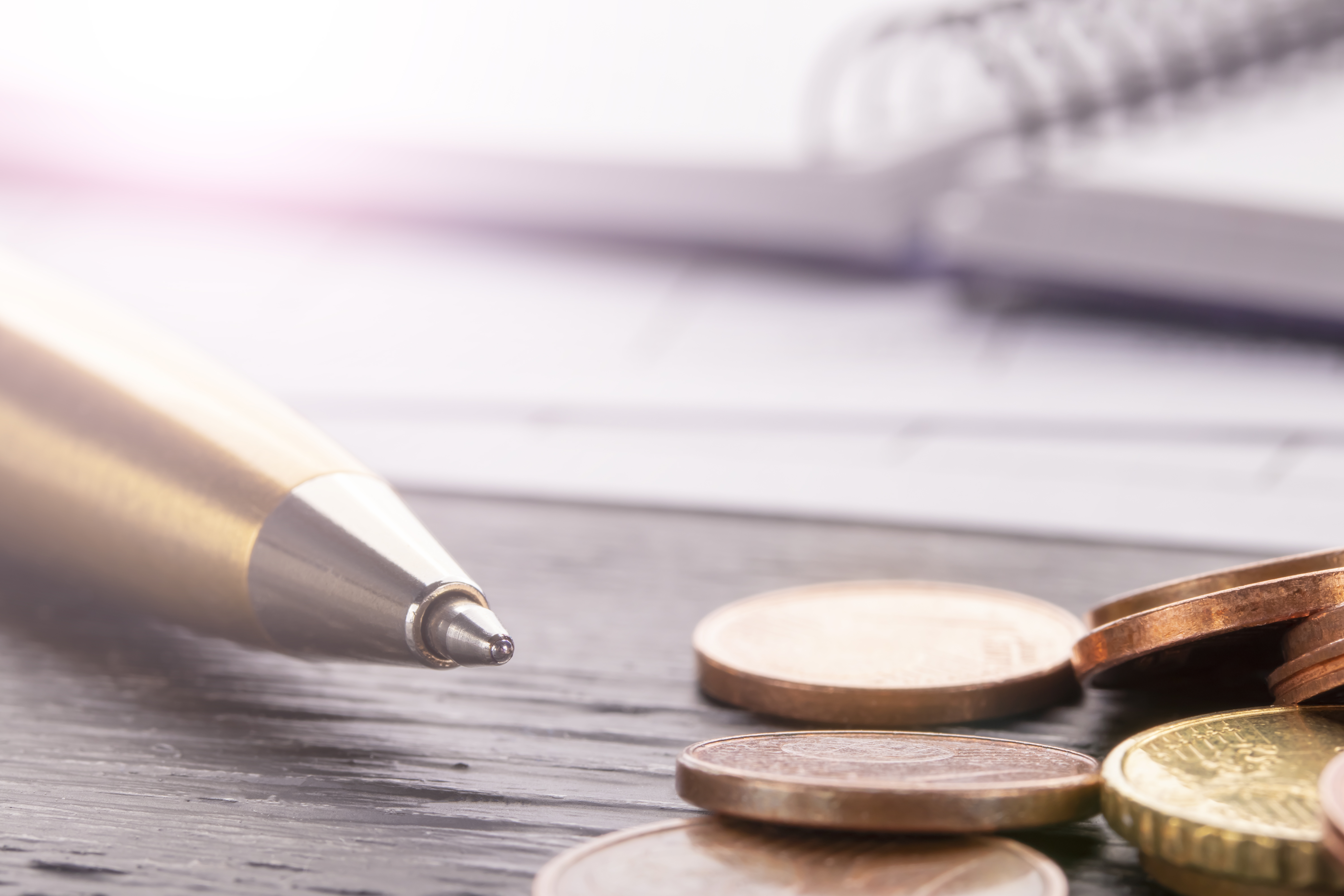 What if I was to tell you that there is a type of investment with the potential to return you a multiple of your original capital within a relatively short period – as little as 2 to 3 years, with an anticipated exit, reasonable probability of success (>70%) and that importantly is entirely uncorrelated with traditional financial markets.
An investment class that has been around for nearly two decades and is already familiar to sophisticated institutional investors such as investment banks and specialist hedge funds but until now has been off limits to even sophisticated retail investors. Well there is such an investment – litigation funding - in legal cases that require capital usually when the claimant is unable to afford it themselves, in return for a share of any settlement paid to the claimant.  While high net worth investors in the US have been able to participate in litigation funding for some time, the launch of AxiaFunder's innovative new platform marks the first time that retail investors in the UK have been able to access to this fast-growing and extremely attractive asset class in Europe.  
Litigation funding is currently growing rapidly In the UK as well. It is estimated that the assets of the 20 biggest UK litigation funders reached over £1bn for the first time in 2017 – up a remarkable 42% from 2016
[1]
, but this is arguably still small when considering that the size of the total UK market for legal services is estimated at around £30 billion pa
[2]
. Despite this impressive growth there is plenty of anecdotal evidence that in the UK the market for smaller claims (<£1m in damages) remains severely underserved and of course largely closed to retail investors. This is perhaps not surprising given the preference of the institutional players to cherry pick the larger, more lucrative cases.  
At this point you might be thinking this is too good to be true and yes, like most things in life, there is no such thing as a free lunch. The very attractive potential returns in litigation funding come with their own unique set of risks and we would caution investors against entering this market without a proper understanding of the potential downside risks. Foremost, is the fact that the outcome of a commercial litigation case is essentially binary – the claimant can either "win" their case either by an agreed financial settlement with the defendant or judgement in court. Alternatively the case may be lost and the defendant prevails. In the former case, investors will be entitled to a significant portion of these winnings - happy days. However, in the latter case they could stand to lose their entire original investment or in some rare scenarios even more than the amount invested
[3]
.
An investor in this space must therefore only invest a portion of the amount they can afford to lose. Diversification can help to reduce an investor's risk of a negative portfolio outcome and we would always recommend that individuals look to spread their litigation investment across at least 5-10 cases, and that they do not restrict their investment portfolio to this type of investment. For example, by allocating their funds across a portfolio of 10 cases, each with a fairly conservative estimate of the probability of success of 70% (many funders quote win rates of 85-90%), an investor could in theory be able to realise annual returns of over 40% pa - and have theoretically above 99% certainty of achieving positive returns.
We believe diversification can be especially effective in litigation funding because, although each case is high risk and binary in outcome, cases ARE uncorrelated with each other (which means that, mathematically, pooling cases leads to rapid reductions in the volatility of returns). This is markedly different to most commonly held investments, for example equities, which typically move in line with major indices and macroeconomic conditions. For investors this independence from other risk assets is a key attraction of third party litigation funding. 
Another issue with litigation funding is a lack of liquidity.  Investors need to recognise that once they have made an investment in a legal case or cases they will typically be committed for at least 2 to 3 years. This is because once funds are committed to a claim - usually to pay for legal and other expenses, they typically cannot be recouped except upon a positive resolution of the case - be it via a settlement or judgement. However, this is no different to many other unlisted investment types such as private equity, property lending or crowd funding of early stage businesses. Additionally with unlisted equity investments it could take upwards of 5 years before investors finally realise any return on their investment - usually through an IPO of the business, sale to a trade buyer or refinancing. Litigation investments on the other hand tend to be of much shorter duration and always have a natural conclusion - either settlement or judgement. For typical commercial litigation claims this is around 2-3 years but could be much sooner if both sides are willing to sit down at the negotiating table. In fact data from a listed litigation funder indicates that less than 10% of their commercial disputes end up going all the way to trial
[4]
.  At this point there are no established secondary markets for litigation funding through which an investor could sell their investment in a case (although this may be something AxiaFunder looks to develop in the future). 
Like investment advisers and asset managers in other areas such as equities or fixed income, litigation funding companie, such as AxiaFunder add value through their ability to "pick the winners" – using their skills and experience to identify only the very best cases to fund while discarding those with limited prospects of success. There are of course still residual risks that investors need to be aware of. In AxiaFunder's case this means that aside from obviously only selecting those with clear legal merits, we also look at a number of key criteria. These include asking whether the case has : i) an independently verified probability of success of at least 70%; ii) attractive economics such as a minimum ratio of expected damages to costs of at least 5 to 1 and ideally closer to 10 to 1; and iii) a high likelihood of enforce-ability - in other words checking that the defendant has the means to pay the claimant should the case succeed.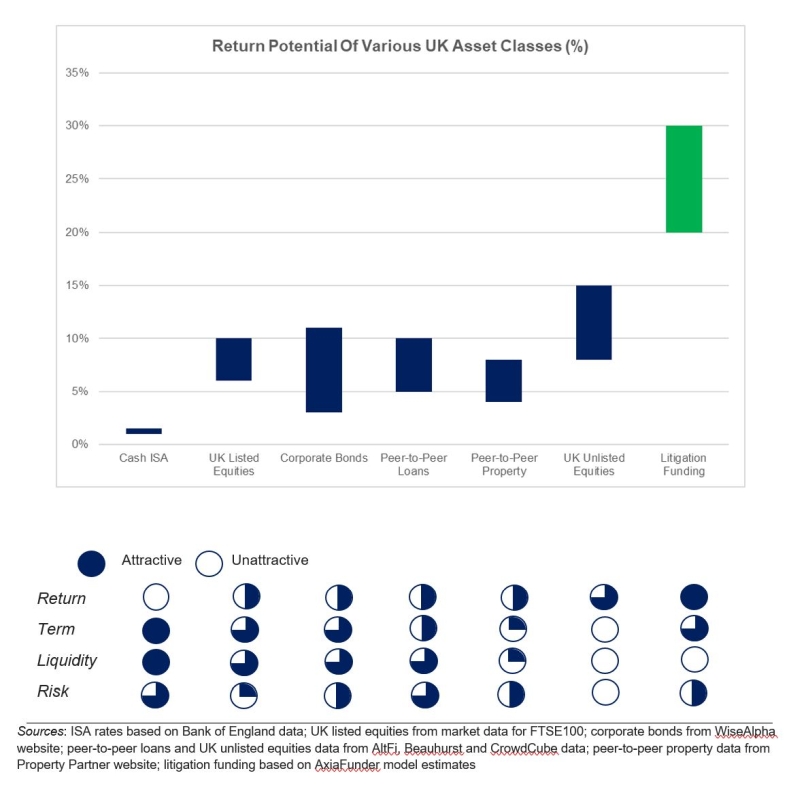 Having experienced a significant broad-based rally in equity and property markets over the last 9 years, arguably now is a good time for eligible investors to look to diversify their exposure across other asset classes - ideally those with little or no correlation with traditional risk markets. In this regard, litigation funding seems like an attractive option although not without its own specific risks.
   
 By Rabin Tambyraja, Professional Investor and AxiaFunder shareholder
[1]
 Global Legal Post article "UK litigation funders ware chest hits £1 billion", 12 February 2018
[2]
 UK Law Society Report "Legal Services Sector Forecasts 2017-2025"; ResearchAndMarkets.com Report "UK Legal Services Market Report 2018"
[3]
 In a remote worst case scenario, an investor could lose double the amount they invest, e.g. if the insurance company providing insurance were to become insolvent.